And it makes it #8! Eight official and successful drop tests.
---
I guess I gave away the punchline by saying "successful", however it's still worth watching the short but pretty suspenseful video at the very bottom of this blog post.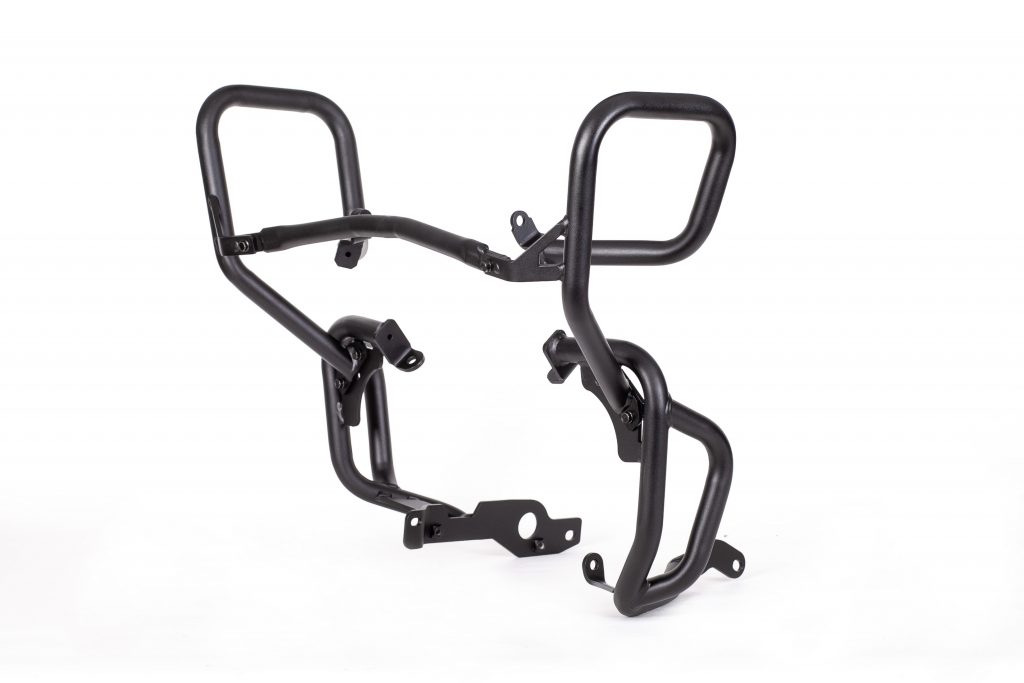 This is the "skeleton" shot above. Each side features four (4) mounting points! The biggest advantage of our system thanks to the generous amount of mounting points is that the energy from an impact can spread and can be absorbed before it reaches the engine or the frame. 
Our approach was to design a set of crash bars for the new Triumph Tiger 900 (all models) which will offer protection for the vulnerable engine casing (clutch and stator covers) as well as the radiator and the plastic panels. Impact distribution was vital and by the look of it, we've achieved it:
We've received inquiries for a potential introduction of "upper" crash bars which would wrap the entire top end of the plastic panels and meet just below the "beak". The answer is that it's not responsibly feasible as per the evidence of the original Triumph crash bars. There are horror stories/photos of the original Triumph crash bars failing miserably after the smallest drop, not to mention the damage they've caused to Tiger 900s. 
A set of upper crash bars can be designed and produced but it's a risky business due to the design of the bike and the lack of (adequate) mounting points. Instead, your best bet is to combine our crash bars with a set of aftermarket hand guards such as BarkBusters or Acerbis etc. 
Now, let's get down to business! 
We tested a fully outfitted Triumph Tiger 900 Rally version which is part of our very own development bike fleet. This bike featured our black crash bars, black skid plate, X-Frame pannier racks and even our rear luggage rack. 
Not surprisingly you'll see that our pannier racks even offered protection for the exposed exhaust muffler. 
Finally, the video! Click, play, enjoy. 
For privacy reasons YouTube needs your permission to be loaded. For more details, please see our
Privacy Notice
.
I Accept