Nothing like accessorizing your motorcycle! Perhaps this is why this particular market is thriving. 
---
It's actually more than just hanging products on your bike. It's a way to express yourself and appear different in front of your riding buddies or just a random crowd. Can you imagine how boring would it be to roll into a parking lot full of bikes and discuss the same accessories you and others have on their bikes? Same bikes that is.
Besides the fun factor and self-expression, there are also benefits of choosing the right accessories. By right I mean functional and well-built, not a knock off one can buy "for cheap" off of one of the popular online "flea markets". 
We are proud to create our very own design but it doesn't mean that we never seek inspiration elsewhere for bits and pieces. 
Our Triumph Tiger 900 products are one example: they're completely and entirely unique and not similar to anything any other manufacturers have ever come up with. By no means I'm claiming we're "the best", just simply stating that our Tiger 900 products have a unique identity. 
Let's start with our "flagship" product: Crash Bars. Besides the fact that it's popular because one likely needs it regardless of the purpose of the Tiger 900.
Sadly riders crash on pavement, as well as off-road. Hence we take this product extremely seriously and follow through with a one-of-a-kind testing procedure which is not a standard procedure in the industry. Only Outback Motortek does it and has done it ever since 2014. Watch the torture test video below:
For privacy reasons YouTube needs your permission to be loaded. For more details, please see our
Privacy Notice
.
I Accept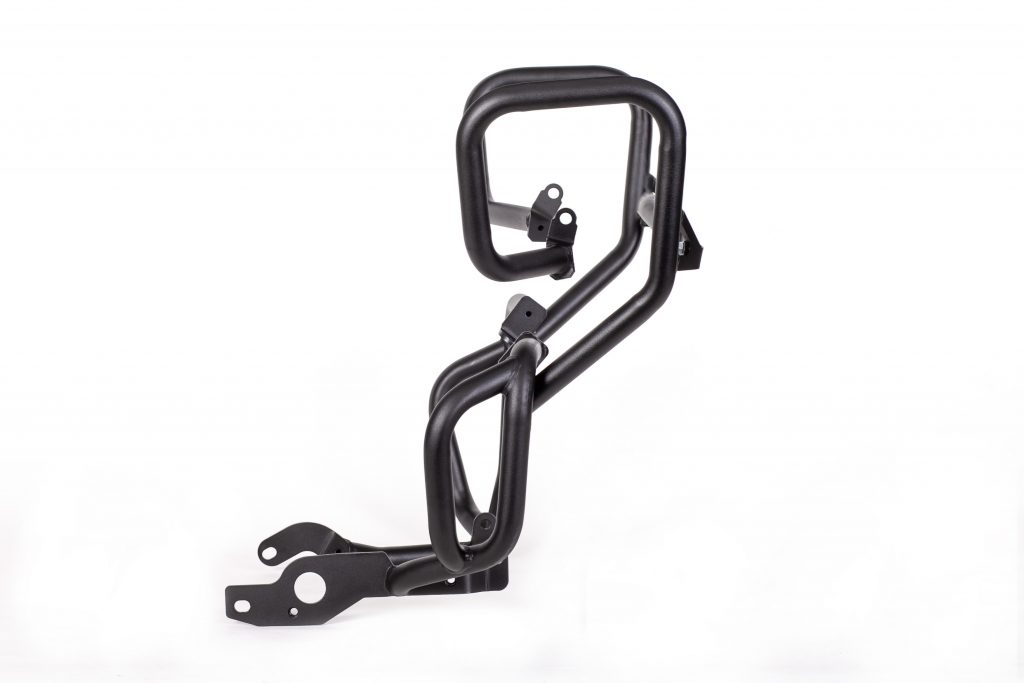 Next product: Skid Plate. 
It serves a slightly different purpose than the crash bars. This product offers protection for the oil pan and partially covers the exhaust header. It's a must have item for those looking to take their Tiger 900 off the pavement!
Moving to the rear end of the bike: Pannier Racks.
This product is known by different names such as pannier frames, luggage racks, side racks, side rails, luggage rails and so on. Its main purpose – as you may have figured – is to carry panniers, side cases, soft or hard luggage, hard cases, aluminum cases, plastic cases. 
Our X-Frame version in the photo below is a multifunctional product and offers more than just carrying your luggage. Thanks to the shiftable "X" shaped bracket it can also accomodate our tool box and/or a Rotopax fuel or water canister. 
The last product on the list: Rear Luggage Rack.
It's more like an accessory that is used by travellers and commuters as well. Our rear luggage rack provides a platform for quite a few things. Just to mention a few: tent, dry bags (roll type), Rotopax fuel or water canister, top cases, Pelican case etc. Top cases or Pelican case may require extra holes drilled by customers. 
A simple part which features beautiful chamfered edges and a minimalist design in favour of functionality.